Long Term Care
Caring with compassion is what we do best. Each day we are reminded that we "work" in the home of our long term skilled residents. Our mission is to provide a "person centered" approach to care, focusing on individual comfort, privacy, security, autonomy and the best quality of life outcomes. Our established caregiving neighborhoods, Spring Glen, Meadowbrook, Evergreen and Glenwood facilitate our person centered care approach, ensuring that our residents receive personalized care from trusted and familiar caregivers. In addition to the clinical services offered to our short term residents, our long term care residents benefit from a broad range of on-site services:
Optometry
Audiology
Podiatry
Dermatology
Dental
Psychiatric Services
Hospice and Palliative Care
Restorative Nursing Program
Respiratory Care
Hamden Rehabilitation & Health Care Center offers a Respiratory Care Program to treat patients with Asthma, Emphysema and other forms of Chronic Obstructive Pulmonary Disease (COPD).
Our Pulmonary Team recognizes the psychosocial and physical needs of patients with chronic respiratory conditions. On-site respiratory therapists provide education and individualized exercise programs that address proper breathing techniques, energy conservation, nutrition, oxygen and the avoidance of COPD exacerbations.
Treatments and support cars services include nebulizers, inhalers, C-Pap, Bi-Pap, Sleep Apnea Treatment and Management, Oxygen Support, Tracheostomy Care, Pleurex Catheter Care, IV Lasix, steroids, antibiotics and nutritional counseling.
Our 64 bed community "Greenwood" was created in 2011 to meet the skilled care needs of individuals with Alzheimer's Disease and related dementias.  The Greenwood Neighborhood is secure and residents are encouraged to walk in a safe and protected environment.
Specialty Training
Caring for individuals with dementia requires skill and expertise in understanding the disease process. Our consistent core of caregivers have been trained under the auspices of a renowned cognitive care specialist and in conjunction with the dementia care training practices of the Alzheimer's Association. This approach to care starts with knowing our residents and connecting to them as individuals.
Life-Enhancement Programs
Therapeutic recreational activities such as art, cooking, gardening and hand massage stimulate the senses and provide a sense of self-worth.
Customized dining enhances our program with a focus on hydration and nutrition.  Fresh, appetizing cuisine is presented in an eye appealing manner to stimulate the appetite.  Our nutritionally balanced meals are also available for patients who require pureed, ground or mechanically altered diets.
Media enhanced memory activities such as music, radio, television and various word games can help to facilitate a resident's long-term memory.
Pet and nature therapies compliment our therapeutic activities.  "Bird Tales" was developed by our company in conjunction with the Audubon Society.  The program uses multi-sensory stimulation and the natural world of birds to help residents interact with their environment.   Paro, our robotic seal, has micro chip technology that simulates the behaviors of a small pet and is a non-allergenic approach to providing comfort and facilitating communication.
Gardening and seasonal outdoor activities can engage all senses and help patients rediscover their world.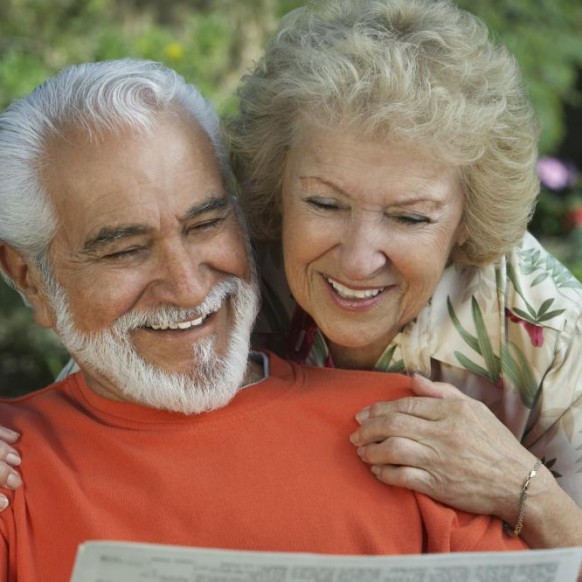 We Value our Partnership with Families and Loved Ones
As a family member, caring for a loved one with Alzheimer's Disease can be an emotional journey, but the partnership that we have with you can make the biggest difference in your loved one's quality of life.  Creating ways to meaningfully engage your loved one can reap unexpected rewards. Your input and participation in your loved one's daily routine helps to strengthen our partnership through trust and support.